Hola! Cómo les fue este fin de semana? Espero que muy bien. A mí se me hizo muy corto, la verdad... Hoy les traigo mi segundo kit, cuyo personaje central es Monosa, la versión femenina de mi Monoso. Está vestida de princesita, con un tutú rosado y una coronita. Espero que les guste. Pueden llevarse los tags en blanco que dejo aquí como ejemplo, solo click en el botón derecho del mouse y "guardar como" (para luego colocarle su nombre o el texto que gusten); o bien pueden descargar el kit completo, que trae 19 elementos: 11 papeles, 1 coronita, 2 doodles, 1 flor, 1 wordart, 1 template y 2 monosas vestidas de bailarinas. El kit "Monosa, muy little monkey princess" pesa 14 Mb.


Nota: si quieres hacer tu propia versión del tag, descarga los materiales y copia el modelo, no haré un tutorial sobre ello porque considero que es muy sencillo. Para colocar el brillo de la coronita usé el filtro Xenox2 Constellation: tamaño de la estrellas 1, densidad de variación 1.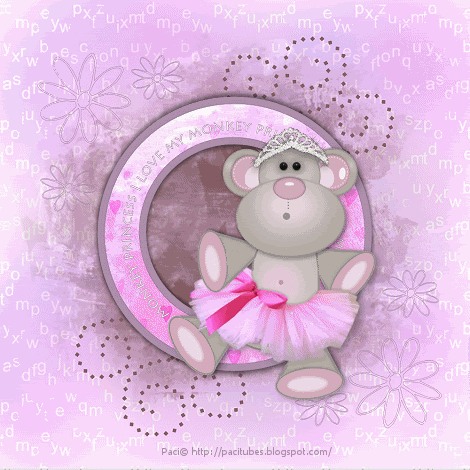 "My little monkey princess"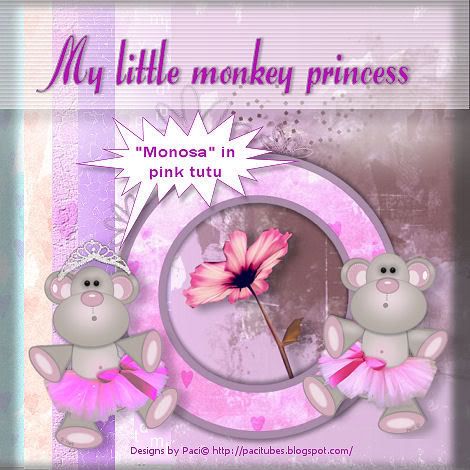 Hi! How are you? The "monosos" are personages created by me. There is male and female version. "Monosa" in spanish means "monkey_bear" or something like that. In this time Monosa wears a pink tutu and a tiara princess. She is very sweet, don't you think? I hope you like it her ballet dancing style...

Download from 4shared: